Tag: Adobe
by Dustin on May.09, 2010, under Annoyances, Gaming, Mac OS X
DUE TO A SHORTAGE OF LOWERCASE LETTERS, AND FAULTY CASE CHECKING, THE ENTIRETY OF THIS POST WILL BE WRITTEN IN CAPITAL LETTERS, JUST LIKE DOS 6.22.
DEAL WITH IT OR GO HOME.
Or, at least, that's what you're supposed to do when you try to use Steam (OS X), StarCraft II, or practically any Adobe product on a Mac with a case-sensitive boot volume.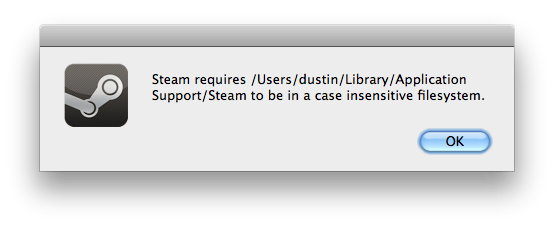 From the factory, a Mac ships with a case-insensitive filesystem. This seems to be an Apple simplification, (continue reading…)
8 Comments
:Adobe, Blizzard, case, caseism, insanity, insensitivity, sensitivity, StarCraft, Steam, stupidity, Valve
more...